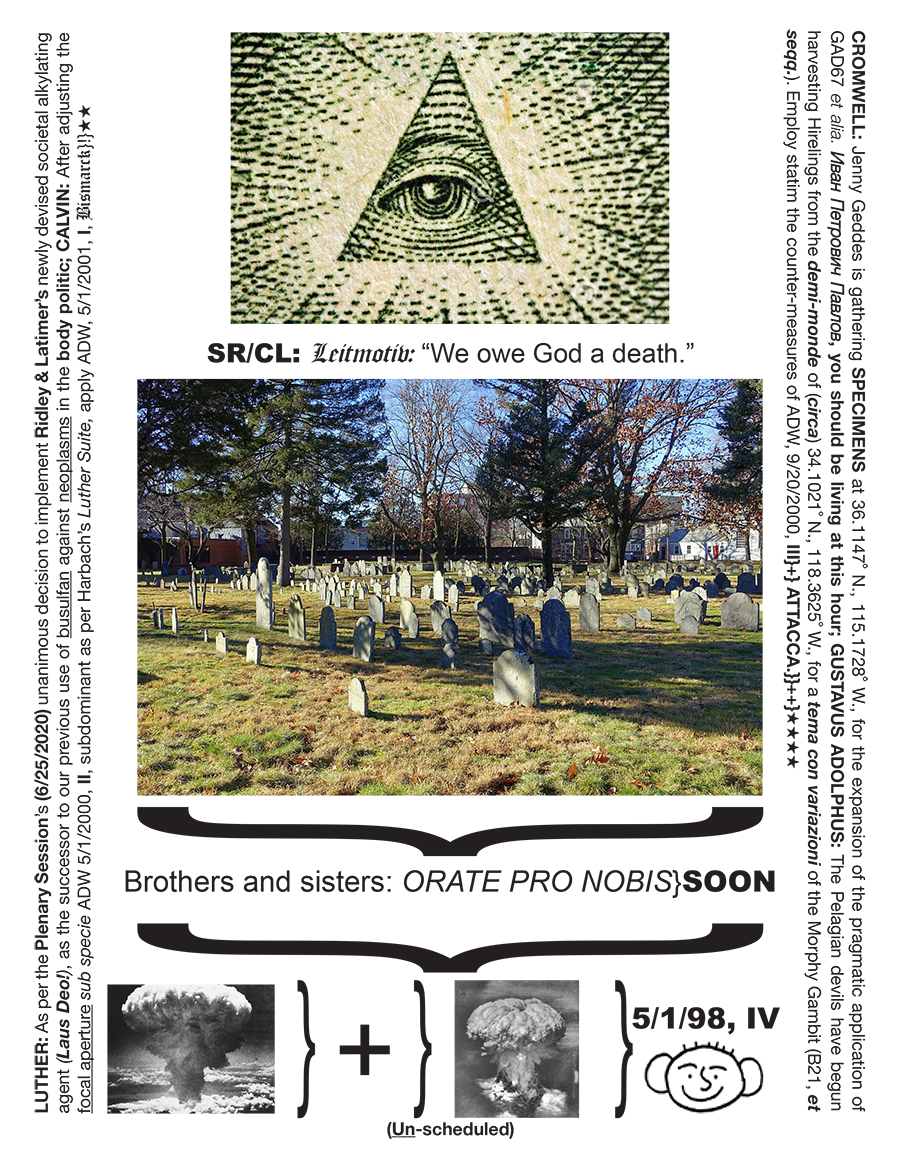 Sent to me via irregular channels, because these are irregular times. -bhance
---
---
R.C. Christian 09/16/2020



 CROMWELL: Jenny Geddes http://en.wikipedia.org/wiki/Jenny_Geddes 
 
 is gathering SPECIMENS at 36.1147° N., 115.1728" W. 
 
 S Las Vegas Blvd, Las Vegas, NV 89109 view of sign that says THE CROMWELL https://www.caesars.com/cromwell
 
 for the expansion of the pragmatic https://www.merriam-webster.com/dictionary/pragmatic application of GAD67 (https://en.wikipedia.org/wiki/Glutamate_decarboxylase) 

	et alia https://en.wikipedia.org/wiki/List_of_Latin_phrases_(E)#et_alii

 eax Metposuy Maanos, you should be living at this hour; GUSTAVUS ADOLPHUS:  The Pelagian https://en.wikipedia.org/wiki/Pelagianism
  
  devils have begun harvesting Hirelings  https://www.merriam-webster.com/dictionary/hireling 
  
  from the demi-monde  https://en.wikipedia.org/wiki/Demimonde 

of (circa) 34.1021° N., 118.3625" W. 

7998-7918 Hillside Ave, Los Angeles, CA 90046 https://goo.gl/maps/N14BmwTntv74TcfFA, 

for a tema https://www.freemusicdictionary.com/definition/tema/ 

con variazioni 
https://www.merriam-webster.com/dictionary/con%20variazioni

 of the Morphy Gambit (B21, et
seqq.). Employ statim *https://www.merriam-webster.com/medical/statim* the counter-measures of ADW, 9/20/2000, III}+} ATTACCA.}}+-+}




Here's what I've worked out so far with links for proof of work and sources. P.S. I've found downloaded the image of the add and 
then converting it to searchable pdf files helps with copy and past for internet searches and if we get all the pages 
entered when then and cross search all the txt fo common ideas.


---
Jenn 11/24/2020


The latest page shows a picture of the old burial ground, Massachusetts. Notable burials include Jonathan Remington - colonial American jurist (associate justice Massachusetts Supreme Judicial Court). The date given of 1 may 1998 with IV could relate to  Juvenile Justice Journal, Volume IV, Number 1, May 1998 (Juvenile Justice at the Crossroads).  There is a Cromwell crossroads in Tennessee. It's an unincorporated area.  An unincorporated area is a region not governed by a local municipal corporation. Similarly, an unincorporated community is a settlement not governed by its own local municipal corporation but that is administered as part of larger administrative divisions, such as a township, parish, borough, county, city, canton, state, province or country. Occasionally, municipalities dissolve or disincorporate, which may happen if they become fiscally insolvent, and services become the responsibility of a higher administration. Widespread unincorporated commu!
 nities and areas are a distinguishing feature of the United States and Canada. In most other countries of the world, there are either no unincorporated areas at all, or these are very rare; remote, outlying, sparsely populated or uninhabited areas.

And also, relating to Cromwell and the judiciary ruling around mayday: The May Day festivities all but vanished following the Civil War when Oliver Cromwell and his Puritans took control of the country in 1645. Describing maypole dancing as 'a heathenish vanity generally abused to superstition and wickedness', legislation was passed which saw the end of village maypoles throughout the country.
Could be some north/south thing relating to the civil war? 

---
Leonie R 11/25/2020


So, 'tema con variazioni' is the Italian word in music for Variation, a formal technique where some of the notes are repeated but altered.

Focal Aperture is a term in photography, here's a link to a quick explanation of it: 

https://www.davemorrowphotography.com/depth-of-field-photography#:~:text=Aperture%20refers%20to%20aperture%20diameter,They%20are%20the%20same.

'Orate pro nobis' is a Latin phrase meaning 'Pray for us'. You probably already know.


---
Erik 4/30/2021


I think they predict an earthquake.  with the power of 2 atomic bombs.  in the cascadia subduction zone. it is a scientific discovery



---

bhance says: nobody's ever sent in hand written notes before, so, what the heck, they are linked here.

Tifinchi 4/30/2021


Please look at my hand-written notes.

https://imgur.com/a/eu1QWux


Notes image 1
---
Allyana 02/24/2021


This is a warning of sorts. It seems to be a warning of nuclear war and the effects there after. 
It seems to me that it is talking about what is to come and to prepare and to pray for help as 
the Latin phrase suggests. 
 
---
josh 02/24/2021


	
 The Cyrillic text (Ива́н Петро́вич Па́влов) after "GAD67 et alia." is actually the name 'Ivan Petrovich Pavlov' in Russian.

This means the sentence there is:
"Ivan Petrovich Pavlov, you should be living at this hour;" which I assume is a reference to the William Wordsworth sonnet 
'London, 1802' that opens "Milton! thou shouldst be living at this hour: England hath need of thee", in reference to 
poet John Milton.

References:
https://en.wikipedia.org/wiki/Ivan_Pavlov
https://www.poetryfoundation.org/poems/45528/london-1802
https://en.wikipedia.org/wiki/London,_1802


In addition, it looks like only the text on the right side of the page was transcribed. Here is the text for the 
left half of the page:

Luther: As per the Plenary Session's (6/25/2020) unanimous decision to implement Ridley & Latimer's newly 
devised societal alkylating agent (Laus Deo!), as the successor to our previous use of busulfan against 
neoplasms in the body politic; CALVIN: After adjusting the focal aperture sub specie ADW 5/1/2000, II, 
subdominant as per Harbach's Luther Suite, apply ADW, 5/1/2001, I, Bismarck}!}


---
Austin 03/03/2021



I see an overall picture as follows: 
Jesus is coming back SOON and the events leading up to that point are happening at an accelerated rate.
Offenbarung 20 (Luther Bible)
5 Die andern Toten aber wurden nicht wieder lebendig, bis daß tausend Jahre vollendet wurden. Dies ist die erste Auferstehung. 
6 Selig ist der und heilig, der teilhat an der ersten Auferstehung. Über solche hat der andere Tod keine Macht; sondern sie 
werden Priester Gottes und Christi sein und mit ihm regieren tausend Jahre. 7 Und wenn tausend Jahre vollendet sind, wird der 
Satanas los werden aus seinem Gefängnis

5 But the other dead did not come to life again until a thousand years were completed.This is the first resurrection.6 
Blessed is the one who participates in the first resurrection.The other death has no power over such; but they shall 
be priests of God and of Christ, and will reign with him for a thousand years.7 And when a thousand years are finished, 
Satan will be released from his prison.


--more

Eye of Providence signifying God's compassionate watchfulness over humanity. Or in this case it looks like the brothers and 
sisters of the First Parish. (Which I now believe will be risen during the "First Resurrection". )

--more 

Regarding Pavlov:

Psychological behaviorism is a research program within psychology. It purports to explain human and animal behavior in terms 
of external physical stimuli, responses, learning histories, and (for certain types of behavior) reinforcements. Psychological 
behaviorism is present in the work of Ivan Pavlov (1849–1936), Edward Thorndike (1874–1949), as well as Watson. Its fullest 
and most influential expression is B. F. Skinner's work on schedules of reinforcement.


---
endy 05/01/2021



Comments: Taking a broader view, the coordinates point to Paradise (Nevada), which is associated with Christian Heaven, and while the second is a private home, it's a white castle on/near Mount Olympus.

Pelagius was apparently the guy who said humans had no original sin and could achieve perfection on this earth.

What kind of philosophy do these guys follow? Are they truly Christian or is this a signal for some other belief similar to original sin that some espouse today?

The demimonde is an interesting reference! It could refer to recruiting from the elites, or, more uniquely to our times, from the "half-world" of the internet.

One side recruits from the demimonde to mount Olympus and believe humans are capable of their own salvation, while the other is gathering "specimens" at heaven for the application of GAD67, which is an antibody, apparently, but I know nothing about that kind of thing. Bizarre.

The creepiest part of this is the line about using chemotherapy on the body politic. What neoplasm is it trying to kill? How are they killing? I hope its not as it seems. The line about Pavlov seems to be almost as bad. They need someone known for behavioral programming?


---
Silas 08.06.2021


"We owe God a death" is actually part of a quote from William Shakespeare, "By my troth, I care not; a man can die but once; we owe God a death and let it go which way it will he that dies this year is quit for the next"